Angela Cartwright as Penny Robinson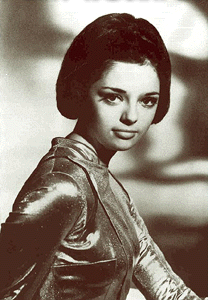 Angela was born in 1952 in Altrincham, Cheshire, England and moved to Los Angeles, CA with her family when she was 3 years old.
After moving to Hollywood, young Angela and her actress sister, Veronica, became children's fashion models.
At age 5, Angela got her first break on television came as Danny Thomas's daughter Linda in the comedy "Make Room for Daddy," which ran from 1957 to 1964. What followed was one role after another.
In 1964 Angela portrayed Brigitta Von Trapp in the film, Sound of Music, and landed the role of Penny on LOST IN SPACE soon after. In 1970, she again united with Danny Thomas for "Make Room for Granddaddy," and throughout the 70s, guest appeared on shows like "Room 222" and "Adam-12."
In 1979, Angela co-starred in Irwin Allen's film, Beyond the Poseidon Adventure.
Angela is the author of My Book: A Child's First Journal, and owns Rubber Boots a successful online art gallery and gift shop.