June Lockhart as Maureen Robinson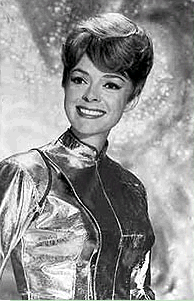 Born 1925 in NYC
The daughter of actors Gene and Kathleen Lockhart, June debuted in the Metropolitan Opera production of Peter Ibbetson when she was eight years old. Her first film was in A Christmas Carol in 1938 starring Reginald Owen and her father (June played her parents' daughter!). By 1948, June was a leading lady; her first starring role in the film She Wolf of London.
June soon became a highly-acclaimed television actress as well, well known for her 1958-1964 role as Ruth Martin (Timmy's mother) on Lassie. But it was her guest-starring role on Voyage to the Bottom of the Sea episode "The Ghost of Moby Dick" which beckoned director Irwin Allen to cast her as Mrs. Robinson in Lost in Space. (On a side note, June garnered the largest parking space at the studio for her vintage 1913 fire engine truck she drove to work.)
After the LIS years, June played Dr. Janet Craig on Petticoat Junction, then went on to host beauty pageants and parade specials on CBS.
June never left the field of acting however. In the early 1980s she appeared on The Greatest American Hero, and on General Hospital, where she was reunited with Mark Goddard. The 1990s brought comedy into June's acting career, as she appeared on TV sitcoms like Roseanne, Murphy Brown and Step by Step.