Guy Williams as Professor John Robinson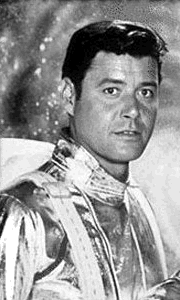 Born 1924 in NYC
Born Armando Catalano, Guy was raised in New York, getting his foot in the acting door by first modeling for magazine and newspaper ads. He later studied acting with Sanford Meisner, and by 1946, had his first contract with MGM. Sadly, the result was only bit parts.
It took nearly a decade for Guy to garner a star role. But when he did, it was the star role in Walt Disney's Zorro TV series (1957-1959). The series was a hit, and pushed Guy's name to the top of the list. Guy appeared in several Bonanza episodes, and continued to do films until 1964, when he signed on to Lost in Space.
His life off-screen brought him just as much acclaimed attention. While Guy was not for women's liberation (he thought women should be "loved, not equalized"), he was one of the first actors to speak against the US involvement in Viet Nam.
After LIS ended, Guy began to feel he was abandoned by the American film industry. He was elated to discover he was considered a hero in South America when reruns of the Zorro series were a big hit.
Guy was a wine connoisseur, a chess player and an expert swordsman. He maintained residences in South America and California from the 1970s until his death in 1989 of an apparent heart attack.