Dick Tufeld as Announcer and B9 Robot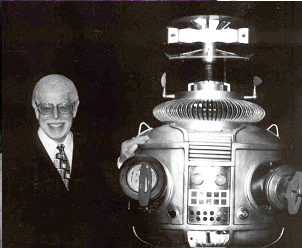 Dick Tufeld was the only original cast member to reprise his TV role in the movie, easily arranged because of the distinctive and vibrant tones that are his trademark.
His interest in a career as a professional announcer began early in his life. As a young boy, he spent many hours enjoying such classic radio programs as The Shadow and Green Hornet. In 1945, while attending school at Northwestern University in Chicago, he returned home to Los Angeles where he got a part time summer job as a announcer at a Hollywood radio station, KLAC. While there, he engineered a show business gossip program hosted by a young literary agent named Irwin Allen.
Twenty years later, Irwin and Dick worked together again - this time on Lost in Space. Doing double duty as narrator and the uncredited voice of the robot, it propelled Dick from narrator to vocal icon.
Recently, Dick fought and won a battle against a tumor which had damaged a vocal cord. After chemotherapy and radiation treatments to destroy the tumor, Dick underwent a rare type of surgery to physically reposition his working vocal cord to compensate for the paralyzed one. The procedure worked, and Dick has recovered most of his voice.
As Dick continues his convalescence, our thoughts and prayers remain with him, and his family.