Collectibles: The Crown Jewel of the Dutczak Collection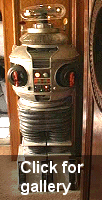 Just this past March I had a dream come true. I managed to purchase a B9 Robot on Ebay. However, this was not an ordinary B9, but the B9 built by Ron Hamill.

"Who is Ron Hamill?" you ask. Well, Ron is a longtime friend of Kevin Burns and has worked on all of Kevin's TV specials, such as Fantasy Worlds of Irwin Allen, Lost In Space Forever and countless others. Ron's B9 Robot was handmade by him (which took four years) and has been displayed at many conventions and promotional LIS events around the country. The leg section itself was molded off the original B9 molds. Ron built this B9 as a beautiful representation of the third season robot.

When Ron made his robot available for sale on Ebay, I just had to have it. I placed my bid and waited with anticipation all week long. I even stayed home from work the day the bidding would end. Hour after hour that day I waited until the auction came to an end. I was the winner! Oh Joy! - it was like winning the lottery. I contacted Ron a minute after the bidding had ended and we made arrangements to have the Robot shipped. Ron went above and beyond the call of duty on making sure I got the best deal on shipping as something of that size is very costly. After receiving payment, Ron shipped the robot and I waited with anticipation for it to arrive. When it did arrive, it came in three crates: bubble, leg section and torso.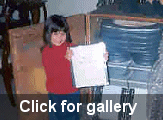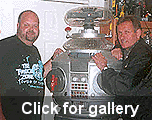 My daughter Taylor and I opened it and checked everything. All was good to go as my wife Silvia and I assembled it. Ron included a manual with step by step instructions. We followed them and completed assembly. After hooking up the wiring, I put in the power pack and bingo! She lit up beautifully! I couldn't believe it. All was wonderful.
Two weeks ago before the Chiller convention in NJ I asked Mark Goddard if he would stop by my house before we both drove down to Chiller to autograph my Robot. He said sure and did. Can't thank Mark enough. I plan on getting all the cast to autograph it. Anyway, I have Ron Hamill to thank for selling me this beautiful B9 robot. It truly is the highlight of my LIS collection!

My best,
Ray Dutczak
May 4 2002.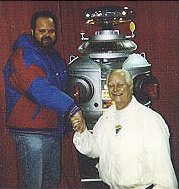 First of all I want everyone to know how happy I am that you, Ray managed to acquire this Robot.
Since I have been inside of it, I can honestly say that it is one of the finest replicas ever made. Ron Hamill is not only a friend, but a great technician. I would put him in the same category as my original robot crew. Ron took care of me on all the LIS specials as well as my original crew did on the classic TV series. I also know that every detail that Ron made with this particular robot is authentic and its no wonder Ray's daughter Taylor thinks I am asleep in it.
So take care, and I wish you and your family joy and happiness with your robot. Remember one thing, don't fool with that power pack too much!
Your Robot Always,
Bob May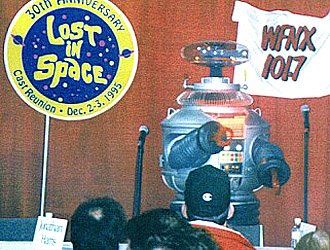 From Ron Hamill's original description on Ebay:
I built this robot in 1991 (before the days of Icons and Classics Reborn) from scratch, with the help and cooperation of "hero owner" Kevin Burns and with the full knowledge of Sheila Allen (Irwin's widow) for use at comic conventions and Lost in Space promotional events.
Although no part of this robot was used in the original TV series, or the Fox TV specials produced by Kevin Burns in the 1990's, this robot replica was carefully crafted using original blueprints and measurements. The torso was made by myself, Ron Hamill with measurements taken from the original torso, however it was not created using a mold from the original torso. The leg section was made from the original plaster mold used to create the original second and third season legs and the claws are workable from the inside, using the same construction as the originals used in the show.
The bubble goes up and down from the inside, and the torso swivels. This robot can be worked from inside by an operator, as it is essentially a costume. This robot is sold "as is". The robot comes with a Certificate of Authenticity."