Marta Kristen as Judy Robinson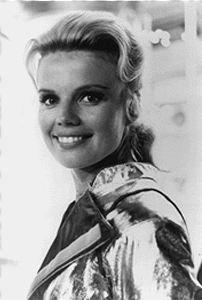 Born 1945 in Oslo, Norway, Marta grew up in Detroit, Michigan, where she took up singing and dancing as a child. Upon her family's moving to California, she was quickly signed with a talent agency.
It wasn't long before Marta was guest-starring in major shows, such as Wagon Train, The Greatest Show on Earth, Alfred Hitchcock Presents, and Man from U.N.C.L.E."
Marta played the eldest daughter, Judy Robinson, on Lost in Space. But the actress was disappointed that her blossoming relationship with Major Don West (Mark Goddard) was suppressed -- she had hoped for a more realistic family show, even though set in outer space.
After LIS, Marta appeared in shows like Mannix and Project UFO. She also appeared on many television commercials, and co-starred in the films Terminal Island and Battle Beyond the Stars.
In the 1980s, after beginning to raise her own family, Marta made special appearances on Trapper John, M.D., Fame and Remington Steele, to name a few. Today, she continues acting in theater on the West Coast.