Collectibles: Lost in Space Forever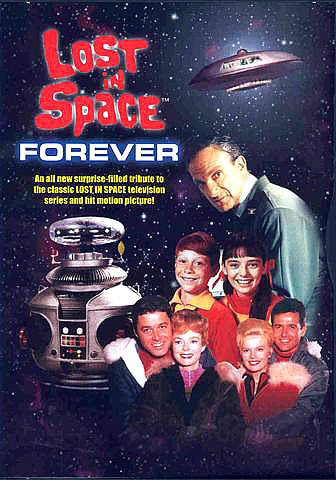 Studio: Image Entertainment
Theatrical Release Date: 1998
DVD Release Date: April 4, 2000
(only released in DVD format)
Run Time: 60 minutes
Produced and Directed by Kevin Burns
Written by Brian Anthony, Kevin Burns, Bill Mumy
Hosted by John Larroquette
Jonathan Harris - I enjoyed going back into character of Dr Smith after so many years. It makes me very happy to know that some 35 years later LIS is still a hit with so many fans.
Bob May - I got a call from Kevin Burns one day and he told me of his plans to do a TV special entitled Lost In Space Forever. This special would cover 35 years of LIS. He asked if I would resurrect my role as the Robot and I said "yes I would be very interested in doing that." I was thrilled to be working among the LIS gang again which consisted of Jonathan Harris and Bill Mumy. The special would be hosted by John Larroquette, who by the way is a bit taller then the Robot.
When I walked onto the set for the very first time I was flabbergasted! It was fantastic! It felt like I was back at Fox in 1966. I would have to say that for me a very special moment was when Jonathan, Bill and I did the very last scene and those first words of dialog were said. Jonathan never missed a beat and neither did Bill. Here we were - the three amigos back again after so long. I think that last scene will go down in LIS history as the "best" ever!