You are here: collectibles »
magazines
»
model figure collector
Collectibles: Magazines - Model Figure Collector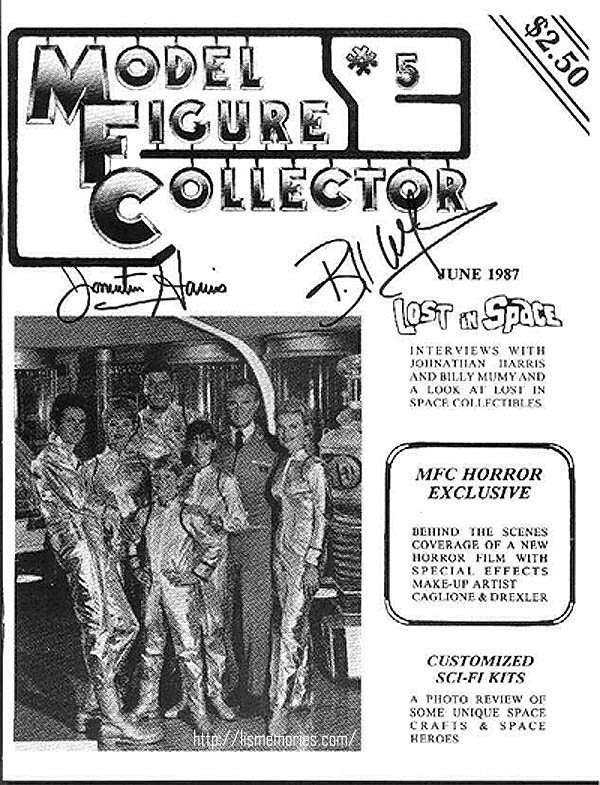 The three Aurora models are among the most famous and treasured collectibles in LIS fandom, and they regained popularity after two of them were re-released by Polar Lights.
But not every proposed model made it off the drawing board...
From June 1987 Model Figure Collector:
Q: What happened to the models Aurora used for the box photography?
A: Aurora's hand made prototypes (the patterns actually used to create the molds) were usually made the actual size of the finished kits. The models were painted and photographed before they went to the mold makers for tooling. This way, the photos could be used for promotional flyers, catalogs, package illustrations and instruction sheets long before the molds were completed and actual kit parts were ready. These models got pretty beat up in the mold making process, and they were eventually scrapped.
There were, of course, many instances were photographic models were built from actual kit parts. These models often got used for sales presentations and industry trade shows, and quite often would end up in Aurora's Manhattan showroom. After all this use, the models that survived were in a shabby state.
---
Q: Why didn't Aurora make a figure of the Robot when they made the Lost in Space Cyclops and family diorama?
A: They got cheap!
Actually, some of the alternate designs for the Lost in Space kits were quite elaborate, as shown by the model development drawings on this page. If this scene had been modeled, the alien creature would have been captured in mid-air, with its right foot attached to the Robot, and the tail pinned to the base. (An alternate alien was also drawn up.)