Kevin Burns, Synthesis Entertainment
It looks like you don't have flash player installed.

Click here to go to Macromedia download page.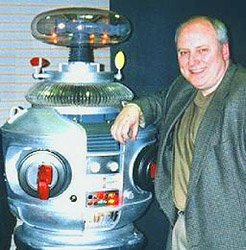 Although best known in Lost in Space circles for recovering and restoring the original Lost in Space B9 Robot, Kevin Burns has become the most vital and visible keeper of Irwin Allen's torch. Born on June 18, 1955 and raised in Schenectady, New York, Kevin Burns developed his love for television and films at an early age.

In 1981, he earned a Masters Degree with the completion of his first film, I Remember Barbra, a film that subsequently won critical acclaim and numerous awards, including a Documentary Achievement Award for Student Film from the Academy of Pictures Arts and Sciences.

After teaching courses in film production and film history at Emerson College and Boston University, Burns moved to Los Angeles in 1988 to accept a job in marketing and promotion at 20th Century Fox Television. In 1993, Burns co-founded Foxstar Productions, a TV Movie production unit.

As Senior Vice President of Foxstar, he served as the co-executive producer on the first three Alien Nation TV movies.

One year later, Kevin formed Van Ness Films, a non-fiction production subsidiary of Foxstar. As Executive Producer for all Van Ness programs, Burns began creating numerous television programs for A&E, AMC, Sci-Fi Channel and USA Network. Within three years, Van Ness became one of the premier producers of television for cable, contributing more than 60 hours of programming per year.

In 1999, Burns retired from his executive position at Foxstar (now, a subsidiary of Fox Television Studios) in order to form Prometheus Entertainment.

As President of Prometheus, Burns continues to work closely with Foxstar and Van Ness Films while continuing to produce his own slate of award-winning television programs and specials.

Also in 1999, Burns formed Synthesis Entertainment with feature film producer Jon Jashni. Synthesis is chiefly involved in administrating and developing all rights and interests concerning Irwin Allen's television and film franchises including Lost in Space, The Time Tunnel, Land of the Giants, and Voyage to the Bottom of the Sea.

In 2002, Burns executive produced a Fox Network pilot for a new Time Tunnel series. He also developed a two hour TV Movie/"backdoor pilot" for a new Lost in Space series, based on his original story.

In 2002, Burns received an Emmy Award for Outstanding Non-Fiction Series as Executive Producer of A&E's Biography.

He recently won his second Emmy for Hollywood Rocks the Movies: the 1970s (with David Bowie), which he created and produced for AMC.