A Fan Tribute to Guy Williams
By Ray Dutczak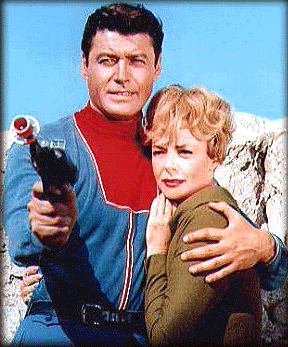 I started watching Lost in Space in 1974 on Channel 5, here in New York. I remembering rushing home after school, to turn on the television set to see what would happen to Dr. Smith, Major West, The Robot, and the Robinson Family.
Out of the entire cast, one member always stuck out for me, "Professor John Robinson" - Guy Williams. I remember seeing Guy, always taking control in all the bad circumstances placed before him. Whether it is saving Will and Dr. Smith from an alien monster, or saving Maureen, Penny, or Judy from a lava pit, you could always count on Guy to come through. Out of the 3 years that LIS ran, there were 2 stellar episodes that featured Guy. The first was the "Anti-Matter Man" from the third season, and the second was "Follow the Leader" from the first season.
In the "Anti-Matter Man", Guy is taken into another dimension by an opposite and evil John Robinson. The climatic ending has Guy saving the day by throwing the Anti-Matter John Robinson off the intergalactic walkway into oblivion.
In "Follow the Leader", Guy becomes possessed by an evil alien spirit named Canto. The ending is equally climatic, in that Guy overcomes evil by means of his son's love.
I've heard that Guy did not like story lines of Lost in Space, but he smiled and continued to be the professional actor that he was. He gave the best performance that he possibly could. Sometimes Guy couldn't contain his smiling, causing him and June Lockhart to be written out of 2 episodes of the third season of LIS. During the filming of the "The Great Vegetable Rebellion," considered by many as the worst LIS episode, Guy and June laughed throughout, which Irwin Allen did not take too kindly to. He decided to write them out of the next 2 episodes, at full salary.
I consider the third season of LIS to be the very best season. It was in this season that Guy went to Irwin and suggested that he should concentrate on the family as a whole, and feature them in more story lines. Some of the best episodes were featured in this season. This includes "A Visit To A Hostile Planet", "Anti-Matter Man", "Space Destructors", and "Deadliest of the Species."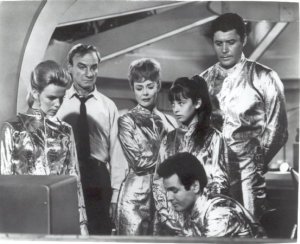 In the third season of LIS, Irwin did get back to basics by concentrating on the Robinson Family again. The story lines included more travel between planets, and each story line concentrated on different members of the cast. In the third season, we had the introduction of the space pod, a new opening theme, and cast members were giving some pretty cool costumes. All in all, LIS received a new face-lift. I believe that this was all due to the persistence of Guy Williams.
On May 6, 1989 we lost our favorite space dad, due to a brain aneurysm. He had been found in his apartment in Argentina a week later. My wife told me this news over dinner. I was pretty stunned, and I did not know what to say.
In recent years, I've had the great pleasure of meeting Guys son, Guy Williams Jr. He and I have become friends, and I really enjoy all of the great stories he has told me about his dad. Guy's memories continue to live on through his son.
Guy was taken too soon from us. Although he is not with us today, I feel that he is smiling down on all of us, happy for keeping his memory alive. I don't think he knew how much all his fans cared about him.
Next year, Guy Williams will be receiving his Walk Of Fame Star in Hollywood. Everyone here at LIS Memories would like to congratulate the Catalano Family on this long overdue honor.