Jonathan Harris - Remembrance
A Legend Remembered, Jonathan Harris, 1914 - 2002
Jonathan's memorial service was held Wednesday, November 6, 2002. In the last year, I've had a chance to reflect on what Jonathan meant to both my family and myself. I've shed a lot of tears during the healing process and always will shed a tear or two at the loss of this gentle man. However, I also manage to crack a few smiles along the way as I remember all the good times the two of us had during our friendship through the years. I could never repay Jonathan for all he has done for me -- his kindness and love will never be forgotten.
Everyone mourned Jonathan's death in different ways, but everyone easily slips from sorrow to the fun and joy Jonathan gave us through the years both on television and in person. And knowing Jonathan, that is exactly how he would have wanted it.
-- Ray Dutczak
Bill Mumy
Jonathan Harris was a wonderful friend, teacher and mentor to me. I'm so glad that our personal relationship continued over the years after our partnership as actors on Lost in Space ended.
As a boy I loved working with him and learned a lot from Jonathan about comedic timing and the business. He used to always say to me, "Don't give it away, dear boy!"
In recent years we spent a lot of time together socially. We also worked together again, doing two episodes of Disney's "Buzz Lightyear" series, and thanks to our friend director/producer Kevin Burns, we returned to our roles of "Dr. Smith" and "Will Robinson" for the "Lost in Space Forever" television special in 1999. That was a special treat we both savored.
My wife Eileen and I had dinner with Jonathan and Gertrude, his wife of 64 years, just a few weeks ago and we were often on the phone with him sharing gossip and family news. He was very much looking forward to returning to the role of "Dr. Smith" in an NBC movie of the week that is currently in development.
Jonathan was a cultured, classy man who loved the opera, good food and drink, gardening, his family and his friends. He held court at any meal and all present were entertained with fantastic stories of his theatrical past. His mind was razor sharp and he had a memory second to none.
Jonathan carried himself with great style and he loved and appreciated his fans. He enjoyed meeting them at personal appearances and he answered all his fan mail personally. Jonathan Harris was not afraid to speak his mind and tell it the way it was. When it came to being a friend, he not only talked the talk, he walked the walk. He was kind and loyal and he was a part of my life for 37 years.
Jonathan was a multi talented one of a kind and he will never be replaced in our hearts.
Bill Mumy
Stefan Arngrim
The Pied Piper
- A memory of Jonathan Harris
by Stefan Arngrim

I only knew him
as The Pied Piper
The friends I have who know better of the man
They laugh and say
I am a little bit right and a little bit wrong
Then they say;
to know any of his 'creations', his 'people' is to know that part of him

I know he spoke to me,
As he flawlessly eased his way through a guest performance on "Giants"
(A role that would have taxed the genius of Chaplin, Euripedes, Jaques Tati - The best of us)
The gloss of the lake of Comedy
That when allowed to calm itself reflects us all so beautifully
To this day,
All I can recall of his sterling advice
was a bat of those eyes
Followed instantly with,
"My dear boy"
And this vision is his gift to me.

He gave us all something
How he managed, I'll never know
But he reached in his storehouse of magic
And fetched me a memory for all my life
"My dear boy!" he said
And I like to think he meant it


Stefan Arngrim
(Barry Lockridge - LOTG) 11/5/02
Angela Cartwright
I loved Jonathan... what a character... He always called me 'Angelinio' and I can hear the way he said it, in that fabulous voice of his, still ringing in my ears to this day.

Jonathan set a good example as an actor. He was always prepared when he walked onto a stage. He knew his lines, and he knew if a scene was working or not. I loved the scenes we had between 'Penny' and 'Dr. Smith'. Seeing him dance in that ridiculous hippie wig and saying 'grrooovy' as only he could. It still brings a giggle to my soul. He was also a kind man and he treated the crew of our show with such respect. I always liked that about him, and to this day I follow his example.

Jonathan was also the best storyteller I have ever met. He may have told the same jokes over and over, but you had to laugh... he told them SO well.

To think of Jonathan and hear his voice and how he brought a smile to ones heart. What more could someone ask for? To have made such a memorable visit to this planet and to be remembered with such fondness.

I'm really going to miss him.

Angela
Obituary by Kevin Burns
JONATHAN HARRIS
(November 6, 1914 – November 3, 2002)
Jonathan Harris, known to millions of fans around the world as TV's Dr. Smith from the now-classic sci-fi fantasy series Lost in Space (1965-1968) died suddenly near his home in Encino, California, following a brief illness. The 87-year-old actor was a veteran of hundreds of stage, television and film performances, including memorable guest appearances in shows like Twilight Zone, Bewitched, and Battlestar Galactica and films such as A Bug's Life and Toy Story 2. But it was as the cowardly, flamboyant, but always lovable Zachary Smith that Harris will forever be remembered.

Born on November 6, 1914, as Jonathan Charasuchin, Harris was the second of Sam and Jennie Charasuchin's three children. The family lived in a six-story tenement building in the Bronx and endured an ongoing struggle to make ends meet. By the age of 12, Jonathan contributed to the family finances by working as a stock boy at the local pharmacy. Though the family did not enjoy many of life's luxuries, Sam Charasuchin, a Russian-Jewish immigrant, taught Jonathan to appreciate the arts by exposing him to opera and taking him to performances at the neighborhood Yiddish theater. Soon, Jonathan realized his love of acting and began self-imposed and self-taught training to rid himself of his New York accent and dialect. At the age of 18, he legally changed his name to Jonathan Harris, but afraid of his parents' disapproval, he did not alert them of his desire to perform.

In 1932, Harris enrolled at Fordham University and graduated four years later with a degree in Pharmacology. In 1938, he married his high school sweetheart, Gertrude Bregmen. The two shared an elegant, sophisticated life in New York, a far cry from Harris' meager childhood, but still feeling unsettled in his career, in 1939, Harris engineered a phony resume and auditioned for the repertory company at the Millpond Playhouse in Roslyn, Long Island. After his acceptance into the company, Harris spent the next year playing supporting roles in 16 of the group's productions. Soon, his ambition led him to Broadway, where he starred in Gilbert Miller's production of Heart of a City after only three years of performing on stage. In 1946, he starred alongside Paul Muni and Marlon Brando in A Flag is Born and gave such a stirring performance that he finally received his father's blessing to continue his acting career.

Harris also made notable appearances in the feature films Botany Bay and Catch Me If You Can. The latter filmed in Cuba during the coup that propelled Castro to power. The new dictator seized the film, and it was never released.

Throughout the 1950s, Harris guest-starred in dozens of television productions, including Lights Out, Studio One, Kraft Television Theater and Zorro (opposite Guy Williams), to name just a few. In 1959 Harris was cast as Bradford Webster, opposite Michael Rennie's Harry Lime in the television version of The Third Man, loosely based on the Graham Greene book. It was here that Harris honed his persona as a highly sophisticated though always-sardonic personality. An amalgam of the larger-than-life actors and actresses with whom he had worked in the theater (Tallulah Bankhead, Paul Muni, Martita Hunt, John Carradine, etc.), this stylish persona also served Harris well for the two years he played Mr. Phillips, the imperious hotel manager on the short-lived sit com, The Bill Dana Show. It was this role, as well as Harris's growing reputation for a no-nonsense always-on-time professional, that brought him to the attention of producer Irwin Allen, who in 1965 was scouting around for the perfect actor to play the nefarious saboteur, Dr. Zachary Smith in Lost in Space.

After briefly considering other actors like Caroll O'Connor and Eddie Albert for the part, Allen chose Harris, who, within weeks of the show's premiere in September 1965, had all but stolen the show from co-stars Guy Williams, June Lockhart, Marta Kristen and Mark Goddard. With the aid of a bubble-headed robot (called "Robot") and child actors Angela Cartwright and Billy Mumy, Harris added new dimensions to the Smith character, making him more lovable and childlike in a way that endeared him to fans, but often infuriated his fellow actors. He would often rewrite his own dialogue and gave numerous suggestions to Allen and the Lost in Space creative team. Nevertheless, when Harris would occasionally solicit Allen's approval for his antics, he was encouraged by Allen's response: "Do more!" Harris's scene-stealing was further rewarded by the consistently high ratings the series achieved during its three-year run, and during its continued popularity for nearly four decades in syndication and on cable.

Rather than hiding from his small-screen alter ego, Harris loved the character he had created and wore it proudly throughout the balance of his career. During the 1970s and 80s, he continued to appear in featured and guest starring roles on television (Bewitched, Land of the Giants, Battlestar Galactica, etc.) and in regional theater (The Man Who Came to Dinner, A Christmas Carol, etc.).

Throughout the 1990s, Harris enjoyed the enormous resurgence of interest audiences around the world were beginning to show in Lost in Space and, particularly, in his Dr. Smith character. Although he declined to appear in the Lost in Space feature film produced by New Line Cinema in 1998, Harris was a frequent participant at countless sci-fi conventions and personal appearances, most notably the 25th and 30th Anniversary Lost in Space Cast Reunions held in Boston.

In 1998, Harris, reprised his Dr. Smith character in a one-hour television special entitled Lost in Space Forever. Co-produced by Twentieth Television and New Line, the syndicated special was hosted by John Larroquette and co-starred Bill Mumy.

Although virtually retired from the screen in his later years, Harris delighted in performing voice over roles in dozens of animated children's cartoons for television (Problem Child, Freakazoid!, etc.) and was a featured contributor to the Walt Disney Productions/Pixar Studios-produced feature films, A Bug's Life (as "Manny the Praying Mantis") and Toy Story 2 (as "The Fixer").

At the time of his death, Harris was preparing for his return to television as Dr. Smith in the upcoming NBC television movie, Lost in Space: The Journey Home, to be produced by Fox Television Studios and Synthesis Entertainment.

Harris is survived by his wife of 64 years, Gertrude, his son Richard, his daughter-in-law Lynnelle, his granddaughters Melissa and Vanessa, and his sisters Rosalie and Allene.. Services will be held at 10 a.m. on Wednesday, November 6 at Westwood Memorial Park, in Los Angeles.
Marta Kristen
When I first met Jonathan Harris, he was sitting in the make-up chair, howling with laughter while traded good natured barbs with our sweet and funny make-up man, Bobby Marx. I liked him immediately. The more I got to know him, the greater my admiration and respect grew.
I saw in Jonathan a self-made man; a man born so poor that to make room for the boarders his parents had to take in, he slept on the dining room table. From those humble circumstances, Jonathan created the persona of Jonathan Harris - a man of great intellect, wit and culture. Jonathan was renown for his story telling. If you were lucky enough, he would include a few of his hilarious off-color jokes, which always seem proper coming from him. We laughed till we cried.

Jonathan loved his opera, his books and his needlepoint. And oh how he loved playing Dr. Smith! Jonathan always said that he saw Dr. Zachary Smith as a naughty little boy, and that is exactly how he played him. The thought and care Jonathan took in giving life to that lovable curmudgeon was the gift we received as we watched Dr. Smith on screen week after week.

And how Jonathan loved you, his fans. Oh yes, he could act ornery and could seem dismissive, but he honestly cared about all of you. When he became ill, he would rest for weeks so he could go to the "Lost in Space" conventions to meet you. He lived for that. How wonderful you were to him! I can't thank you enough for cheering for him, laughing at his stories and asking him questions which you already knew the answers to (So that you could hear his delight responses, no doubt). You were so good to him and that made all the difference.

The only times I saw Jonathan turn to mush was when he talked about his wife Gertrude and his son Ricky. I'm sure he loved them more than life itself. My heart grieves for them and I send them my prayers.

The one thing I am sure about is that the world will not be the same without Jonathan. I also know for sure that nothing, not even death, can silence that indomitable spirit.

So, as we raise our glasses of Dubonnet with a lemon twist, we give one last toast as we celebrate the life of our dear colleague and friend, Jonathan Harris. We will miss you.

Love,
Marta
Kevin Burn's Eulogy
Eulogy for Jonathan Harris
written by Kevin Burns
delivered November 8, 2002


"Never fear, Smith is here!"

For the past 37 years, I was comfortably reassured whenever I heard that phrase.

It meant that Jonathan Harris was still among us -- alive and well. Strong, vital, hysterically funny, acid-tongued -- uncompromising.

I first became aware of Jonathan -- as most people of my generation did -- on television.

I was ten years old, sitting in my parent's living room in Schenectady, New York and watching "Lost in Space."

I had never met -- or seen -- or heard -- anyone quite like him before.

Even on our small black and white TV -- he was larger than life. And, oh boy... was he colorful.

The show was strange and bizarre. It had aliens, monsters, spaceships and robots. But it also had Dr. Zachary Smith. And even amid the visual spectacle that Irwin Allen poured into each episode -- Jonathan Harris stood out. Not an easy thing to do.

Even his credit -- "special guest star" -- stood out. My friends and I never quite knew what to make of that, especially since he was on every week.

As Dr. Smith, Jonathan was menacing, villainous, cowardly, pompous verbose, lazy -- and childlike.

I was crazy about him.

In a world of powerful, self-assured adults, Dr. Smith made a kid feel stronger, smarter and braver. Just like Will Robinson.

I started talking like Jonathan. Trying to replicate his grandiose speech pattern. His alliteratives.

"You bubble headed booby!"
"You Neanderthal ninny!"
"You tintinnabulating traitor!"

I did this almost non-stop -- until one day, when I was walking Nina Dahlsteadt home from school -- she told me sweetly, "Kevin, you know you don't have to talk like Dr. Smith all the time."

I answered, "Indeed!"

Twelve years ago, shortly after taking a job at 20th Century Fox -- the studio that had made "Lost in Space" -- I had my first occasion to meet with Jonathan by phone. By then, Bill Mumy and I had become acquainted and we were planning to put together the first ever cast reunion of "Lost in Space" as part of a 25th Anniversary celebration.

I was petrified at the prospect of speaking with my childhood hero. I feared being disappointed in him.

I dialed his number.

"Hello?" I heard, in that familiar voice.

Mr. Harris, this is Kevin Burns from 20th Century Fox, Bill Mumy gave me your number. Some friends of mine in Boston are putting together a convention to celebrate the 25th Anniversary of Lost in Space. They don't have very much money and...

"Stop right there!" Commanded the voice on the phone.

"Kevin, Billy tells me you're a very nice person, so I'll get to the point.

Whenever I hear that people don't have very much money it bores me!

Now, here are my terms. They are non-negotiable: I want 25 hundred dollars a day. Non-stop
first class roundtrip tickets on American Airlines. I must fly in the day before the event and leave the day after the event. I do not travel at night. I will also require VIP hotel accommodations and ground transportation -- as well as a 75 dollar per diem. Do we have a deal?"

I stammered... overwhelmed... helpless... "U-uh...yes," I said.

"Good. When do you want me?"

He didn't disappoint me. I was still crazy about him.

In the years that followed... too few, as it turned out... I sought as many opportunities as I could to work with Jonathan again. I staged more conventions. I produced documentaries and television shows about Irwin Allen and Lost in Space. I even did his Biography for A&E.

Working with Jonathan was more than a pleasure -- it was a privilege. He was always prepared and on time. No, he was always early. 15 minutes exactly.

Of course he always made suggestions, corrections and improvements. He was always right. He was always, as he would say, "about the work."

He was also very grateful for his success, and proud of the personal relationships he had developed with many of his fans. He was always very giving and generous to his fans. At conventions and personal appearances he was often the very first to arrive -- and the last to leave. Everyone who wanted an autograph or a handshake would get one. He would make sure of it.

But working with Jonathan was nothing to the experience of dining with him. He was a brilliant raconteur. His stories -- usually involving Paul Muni, Tallulah Bankhead, Estelle Winwood, John Carradine, Martita Hunt and Marlon Brando -- were incredible in their detail. They were also incredibly funny.

It wasn't long before I found myself hosting lunches at Fox -- and later dinners -- just so that my friends could share the unique experience of being with this man. Often we were joined by Jonathan's co-stars from "Lost in Space." They were like a family. To me and to each other.

But always at the head of the table, holding forth, was Jonathan. Jonathan and his stories.

After three years, we'd heard them all. But it didn't matter. We couldn't get enough of them.

His jokes were even better. Wicked, naughty, fabulous jokes. Those in attendance would blush and gasp. We'd shudder in horror, lest he be overheard by someone less understanding at the next table.

"Screw, em!" Jonathan would exclaim (although he would choose a more colorful expletive).

I winced. I winced, but I also laughed.

One thing Jonathan didn't joke about, though, was his family. He was very proud and protective of his family.

So much so that it became something of an issue between us. Even after working together for eight years -- and after countless lunches and dinners -- Jonathan had never let me meet his wife Gertrude. I had spoken to her by phone. But I had never met her in person.

I later found out that Bill Mumy had never met her either. We wondered if she even really existed.

When I pressed Jonathan for the reason why he told me honestly and matter-of-factly: "I keep my private life private."

I knew that I should drop the subject.

About three years ago, however, Jonathan called me.

"It's time," he announced in his best Dr. Smith voice. "It's time you met Gertrude!"

Wow! I was being allowed into the sanctum sanctorum. I had arrived. If this was the mob, I was about to get "made."

We had dinner at the Peninsula Hotel.

And once I met Gertrude, I knew why Jonathan had never encouraged me to meet her before.

Not only was Gertrude beautiful, classy, incredibly intelligent and real -- but she was his equal, in every sense of the word.

After all those years -- just when I thought I knew him -- just when I thought I had Jonathan Harris figured out -- Jonathan's cover was blown.

After meeting Gertrude, and seeing the two of them as a loving and very married couple -- I realized a startling fact: the Jonathan Harris I knew was a fraud.

He had projected an image of himself as a curmudgeon. He was a pussycat.

He had projected an image of himself as a worldly, gourmand and opera-loving sophisticate. He was that, of course, but he also liked a good hamburger with mayonnaise and deep-fried onion rings -- extra crispy.

He played a sissy on screen. But he was, in fact, one of the most courageous and masculine man I have ever met. Masculine enough to kiss a woman -- or a man -- and never apologize.

In the last, too few years, I feel that I got to know the real Jonathan Harris. The one that was born John Charasuchin in the Bronx.

The one whose parents were so poor that they had to take in borders. The one who had to sleep on the dining room chairs because he no longer had a bedroom -- and who dreamed of being an actor.

On the day before he died, I went to visit Jonathan in the hospital. He looked small and frail. He was also a bit tired. Nevertheless, we had every expectation that he would make a full recovery. He always had. His strength of will was formidable. Nothing could lick him, or so we thought.

We talked about many things. He asked about everyone. Always wanting the latest gossip. He talked about picking out a wedding gift for Scott and Shanon. He talked about making needlepoint pillows for my house. He made plans for the opera -- and for our next dinner with Gertrude and friends.

There, next to his bed, was the script for the new "Lost in Space" movie we were planning. I had sent him an early draft because I knew that he would want to review his part -- and, as always, rewrite all of his dialogue.

There, from his bed, he regaled me with his notes on the story.

Dr. Smith -- his Dr. Smith -- would be returning one last time. It had to be good. No. It had to be great.

"Kevin," he commanded. "As we discussed, the first scene I'm in must be changed!"

"Yes," I answered. "No problem."

"I will emerge from the freezing tube -- first. And I will say, 'Your honor, I am innocent of any wrong doing and... wha... Where am I?

You! You bubble headed booby! This is all your fault!'

And the Robot will say, 'I will now release the others.'

And I will say, 'Not so fast, ninny! May I assume that my vital signs and bodily functions are in full, complete working order?'

'Affirmative', the Robot will answer.

'Good. Now you may proceed.'

Kevin, this is the way it has to be. Otherwise it will not work. Promise me."

"Don't worry, Jonathan," I said.

It was his last performance as Dr. Smith. What a shame we didn't get to see him deliver it in front of a camera. As always, he was right. It was the way it had to be.

Dr. Smith was Jonathan Harris best known and best-loved character.

But Jonathan Harris was also a character. John Charascuchin performed it every day of his life. It suited him. It was the man he wanted to be.

Jonathan Harris loved things that were grand, gorgeous, outrageous, larger than life. Just like he was.

He invaded a world of "drears and bores"-- as he called them, and injected magic.

As Dr. Smith -- and in countless hundreds of performances -- Jonathan Harris created a personality that was unique, delightful, challenging, funny and transformative.

To those of us fortunate enough to know him, he transformed our lives.

Never fear, Smith WAS here!

And he always will be.

Thank you, Jonathan. And God bless you.
Mark Goddard
Our hearts are heavy but the spirit of Jonathan soars. In his lifetime he gave us laughs, poignant dramatic moments and great generosity both on and off the screen. He will be missed greatly as witnessed this past weekend in NYC where hundreds of fans came by to express their condolences to Ray Dutczak and me at the Big Apple Comic Convention.

Their sincerity speaks volumes about the way the public feels about Jonathan. A bond of love between the fans and Jonathan will never be broken. Our heavy hearts will soon begin to soar with the spirits that in the essence of Jonathan Harris.

Mark Goddard
11/10/02
Memorial Service card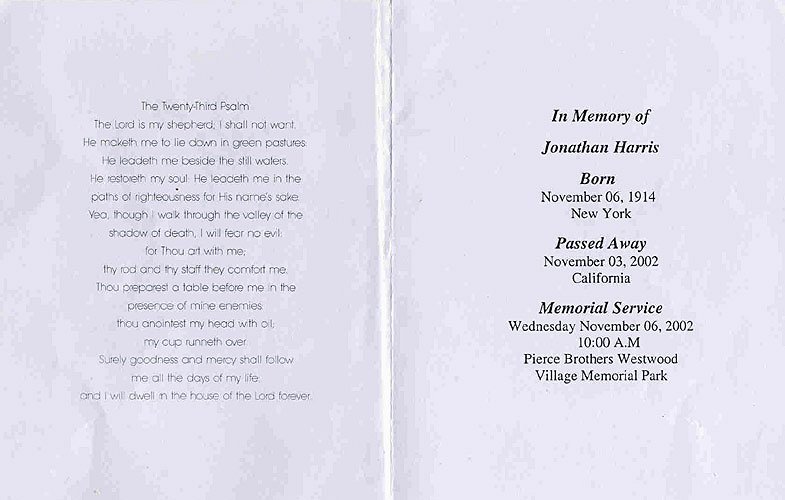 Vitina Marcus
My Dearest.... Handsome, Pretty, Handsome, Dr Smith.

I just loved being mischievous with you & for you. It was a happy time. I now appreciate even more, the brief improvisation we shared at a shoot a couple of years ago staged to surprise you as I walked in all green.


I have no doubt that you're stirring things up & are the center of attraction in the dimension you are now in even though we all wish you were still here with us.


I send you my love & appreciation,
Vitina Marcus......The Green Lady