A Message from Bob May - 4/25/05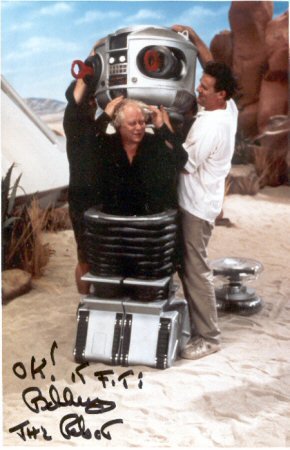 To all my Lost In Space fans, I am looking forward to seeing all of you at the best convention in the world, Chiller Theatre. You'll not only see me, but you will also see Ray, Mark, and of course Simon. But lets not forget the Irwin Allen Fan Club which will be present. If you are not a member yet, what are you waiting for?
In May, come and join Mark Goddard and I, along with Ray Dutczak and the Irwin Allen Fan Club, the B-9 Builders Club and their robots, as I judge their wonderful B-9 Robots. You'll also see Mark Goddard show off the Jupiter2. Understand one thing, Mark did not land that particular Jupiter2. Lets have fun where the Kentucky Derby became famous at Churchill Downes. Have the time of you life at WonderFest in Louisville, Kentucky. June- summer comes in with a bang, with me appearing in Fresno, Ca. at Fresno Collectable Convention.
Then I am off to where the corn grows as high as an elephants eye, Tulsa, Oklahoma for Starbase 21 Trek Expo.
Stand-by for a big announcement if you have ever had a set of LIS trading cards, then this is a must for you, because a LIS super set from Rittenhouse Trading cards will be available come July.
LIS third season volume II DVD set- remember the end of the second half of the third season contained one of my favorite episodes, junkyard in space. Finish out your wonderful LIS DVD collection with this final set. For further information on my public appearances, keep checking lismemories.com or my site robot-b9.com for the latest updates.
In closing, I cannot emphasize enough how important it is and how enjoyable it is to see you all in person. It is a fact that you the fans and the Irwin Allen Fan Club members, by you stopping by my table, you have made every convention that I have attended a pleasure and successful.
Thank You,
Your Robot always, Bob May.
April 25, 2005.