A Message from Mark Goddard - 5/11/05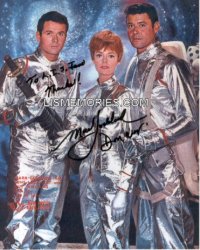 A hardy hello to all I.A. Club Members, and LIS fans.
Here we are approaching the middle of May and all is well. Congratulations to Ray's beautiful daughter, Taylor, on her first communion celebration. Also a happy first birthday to my God Child Rachel Simone, Ray and Sylvia's second- born.
I hope everything is great with all of you. When we meet or reacquaint at shows, let me know what's happening in your life. I'm interested. What I enjoy most about the cons is meeting and talking to LIS fans.
I like the questions and I enjoy the banter about Lost in Space on and behind the screen. I'll be in Detroit the weekend of May 14th and in Louisville, Kentucky the weekend of May 28th. Hope to see some of you at those shows. Also, I'll be at Shore Leave in Maryland in July. I mention these shows because I'll always have something special to give I.A. club members. I appreciate your loyalty to Irwin's shows and the fun we have discussing them.
I'm still teaching (I guess I'll never retire) and will do so this summer. I usually take the summer off, but this year, my son, John, is spending six weeks at Bridgewater State College (living there). So, I'll have time to devote to the kids at F.L. Chamberlain School. John is taking courses in aviation and rocketry (rocket man?). John will be 14 on May 31st.
Presently, he and I are being father and son bachelors for 10 days. My wife Evelyn, is in Dublin, Ireland presenting a paper at the International English Conference. John and I are very proud of mom on this mothers day. You'll probably be reading this after Mother's Day, but still to all the moms out there, a special happy Mother's Day from........
Mark Goddard, Major Don West, and Family.
Love ya!