Mark Goddard talks about Season 2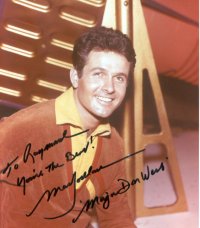 "Lost in Space" in color. It sounded great but I was shocked to see myself in color. This was 1966 and i only saw myself in black + white on "Johnny Ringo", "The Detectives", "Perry Mason", many westerns ect. Even, when at home, and looked in the mirror, I only saw myself in black+ white. No kidding, my life changed that year. My world became colorful. On the set, the trees were yellow and violet and the guest stars, God bless their courage, were dress in every color imanginable. I'm very grateful for this colorful change in the second season because I never had to use psycodelic drugs to see life in such a turned-on way. I simply had to go to work each day.
And each day I went to the studio to find myself, not only surrounded by fantastic colors and unusually creative phallic designs but I was involved in stories and dialogue that could only be written by writers and story editors who must have been eating colorful mushrooms while sipping colorless drinks. This imbibing turned one of them into a colorless, dour, vindictive, hateful person. (someday I'll tell you how I really feel about him) Anyway , I am referring to Don Richardson, who directed twelve of the " Lost in Space" episodes that year.
One of the episodes was "Wild Adventure", which featured Vitina Marcus as the green alien. Now, I use to have a lot of fun on the set with Jonathan Harris. We would often joke with each other, using inappropriate terms at appropriate times(within ear shot) during the filming of the show. So you can imagine the fun we had at the expense of the 'green alien'. I'll keep the remarks to myself but in the spirit of sharing an on-set moment , I whispered to Jonathan, "Do you think she has green peas?". I love puns and as good as I thought that one was, Jonathan topped it as he did with most of my spontaneous quips. He was a gem----Jonathan was Indeed!!
During the second season, we had some terrific guest stars. Wally cox, Malachi Throne, Henry Jones, and Albert Salmi were among the many I enjoyed watching and working with on the set. I especiallly got a big kick out of sharing the screen with Gerald Mohr and John Carridine, both having been in episodes of "Johnny Ringo" with me seven years earlier.
In "A visit to Hades", which Gerald Mohr guest starred in, I remember Marta giving me a good whack over the head in a fight scene. I was winning the fight with Gerald ,when she belted me with a magic yet solid harp. When the harp made contact with my skull, I remember her saying "oops" as the angels sang in my head. Thye sounded like angels but they must have been cuckoo birds because we were in hell.
I thought I was in hell again, when I ran into Dawson Palmer as the character Angus in "Astral Traveler". We shot "lost in Space" next door to "Voyage to The Bottom of The Sea".One dya, I was smoking a cigerette(No More!) in the entrance way that led to both stages, when lo and behold Angus appeared, soaking wet as he came from the "Voyage' set. He was closely followed by two costumers, carrying hair dryers. To my amazement, they professionally dry cleaned Angus and sent him directly to the "space" set to film a scene for "Astral Traveler"!
In the colorful second season, I remember we had some 'babes' visit the Jupiter two. I especially remember the ones that were costumed in black,silver and green. And oh, what colorful names. Niolani, Verdi and Artena. In sometimes wonder how many "Lost in Space" pre-teens grew up and gave birth to daughters and named them after our guest star females? I have yet to sign an autograph to anyone with those names , so I guess the 'lost' generation spared their children the taunts of schoolmates during recess.
Well, folks, the second season was a trip,so, when you get the DVDs, pick a few mushrooms, make yourself a martini, sit on a flowery psycodelic couch and relive the 60's by watching "Lost in Space" in brilliant color.
Hope to see you all at a convention, soon
Best wishes always,
Your friend and... spacefully yours,
Mark Goddard aka Major Don West of the classic "Lost in Space" series