Mark's LIS Memories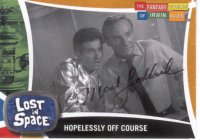 When I think about the first five episodes of Lost In Space, it congers up memories of the unaired pilot, which was to be presented to CBS for sale as a series. As some of you know, I originally did not want to appear in the pilot. Hey, at the time, I thought I was the answer to Jimmy Dean, not Flash Gordon. Also, what did I know about science fiction?
I thought the term was some kind of fabricated biological entity. Anyway, my agent gave me the script of the pilot episode to read. He told me the part of Dr. Donald West was mine, if I wanted to do the role.I read it, and thought that there must have been a mistake, because the script lacked any dialogue. Either that, or the family Robinson was deaf, and all communication was in sign language. I'll have to admit, though that I uttered my all time favorite line in the "Hungry Sea" (an episode made in the pilot). When I was washed overboard by a tsunami like wave, right on top of the chariot, I (as Don West) was heard yelling Eeeeeeeee.......Great line, huh?
But, it was out done by a Judy line in the same scene.The line read "You must turn to the left" "Left, right, up, down ?...." How the hell would Judy know what to do? First of all, she was a musical, comedy performer, and here we are in the middle of a whirlpool, engulfed by giant twirling waves. She could have been just as helpful if she broke out singing melodies from "The Sound of Music". What the heck, Penny could have joined her too, to make a duet. NO...wait a minute "Music" hadn't been made in 1965, so, the could have harmonized"Cry me a River".
Actually there were a lot of reasons to cry during the pilot. Just imagine how you would feel if you were caught in a 140 degree heat in the desert, 80 degrees below zero weather in a spaceship that won't start, being drenched by tubs of water, while trapped in a bubble on wheels, walking into a dark cave during an earthquake, trying to make friends with a one-eyed Cyclops while firing a lazer rifle at him, and experiencing all of these events, with a donkey eared monkey, that would bite anything moving. But...our cast of characters were in good hands if sick or injured, because of the medical skills of Dr. Donald West. But, Irwin Allen made him an air force major, when I insisted that Don west be played as a gynecologist. Well, that part went to Jonathan Harris, as Dr. Zachary Smith. That straightened everything out. He was joined by the Robot and (Lost in Space forever) was born again.
Thanks for sharing your time with my memories.
God bless,
M.G. as Don West