Props : General Utility Non-theorizing Environmental Control Robot, model B9
It looks like you don't have flash player installed.

Click here to go to Macromedia download page.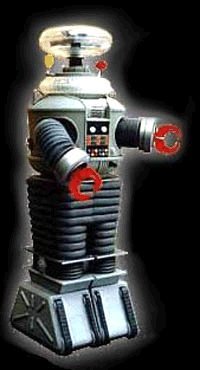 The Robot is supposed to preserve the Robinson Family and monitor the planetary environment. The robot also, of course, gives warning when danger is imminent.
Created by Robert Kinoshita, the same man who brought us Robby the Robot from Forbidden Planet, this Robot cost about $75,000 to make and weighs nearly 200 pounds. It's chest lights and motorized feelers were powered by electricity (from time to time, TV viewers could see the electrical cord).
For the first three episodes, stuntman/actor Bob May actually walked inside the robot. Because it became so difficult to move the robot this way, by the fourth episode, Bob carried the upper portion of the robot. This robot suit, known as the "Bermuda Shorts" allowed great mobility and worked perfectly well as long as the director shot the scene close enough to cut the Robot's legs out of the frame. For many shots requiring the robot to move across the scene, it was manually pulled.
While the effect of an apparently fully functioning robot was amazing by itself, it was the voice of Dick Tufeld, a popular Hollywood announcer, who gave it life. For many years, the fact that the robot was indeed a man in a suit was a closely kept secret.
The robot also appeared also on a late '70s TV series, Mystery Island, slathered in white enamel spray paint with a modified bubble and tread section. Today, fortunately, the robot has been rescued and restored by Kevin Burns at Fox.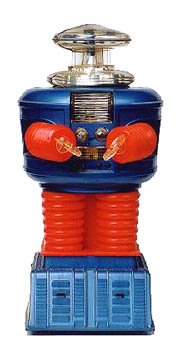 Avid LIS collectors either have or seek a toy replica produced by Remco,
which currently sells for about $750.00 in US funds.